Tim Smith's Message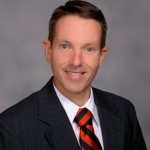 My name is Tim Smith, and I am the principal of Winter Park High School. I have been a principal in Orange County Public Schools for 17 years. Prior to working at Winter Park, I was the principal of Freedom Middle School and the principal of Howard Middle School. I am honored to be the incoming president of the Orange County Association of School Administrators, commonly referred to as OCASA. I look forward to the 2016-17 school year.
The OCASA board has had another productive year, and I am thankful for the work our board members have invested into OCASA. A special thank you is in order for this year's President Seth Daub who has been a dedicated leader. He has represented all of us well in his role as president. Thank you Seth! I also thank our Executive Director Bob Clark who is a supportive and vital leader to our organization. Bob keeps us up to date with pressing matters and is connected with other counties in the I-4 corridor.
Looking to the upcoming year, it is appropriate to start by sharing the OCASA mission statement. Our mission is to ensure that state and local policy and rules contribute positively to the education of our children and adults in the public schools of Orange County.
The Orange County Association of School Administrators is an important group with a great responsibility. We are the people who actually implement law, policy, and rules. In this role, we observe or measure how these rules impact students. Those who author policy usually have invested think time, examined research, and then proceeded forward with good-hearted intentions. However, it is extremely complex and challenging to author policy that ends up being positive and effective for all kids.
Given this challenging task shouldered by law and policy makers, who provides feedback and who advocates for students when policy does not meet the intended outcomes? The answer points to you and I. We have a responsibility to provide the best opportunities for student growth and learning. We must wrestle with policy and try to implement those policies well. We must also provide feedback and communicate new solutions when policies are problematic or need adjusting. This is where OCASA can make a big difference because collectively we have the potential to be a powerful voice.
As your president, my vision is for OCASA to work in two key areas this year. The first area is state law and policy. The second area is to assist our district with our OCPS policies, rules, and practices.
At the state level, it is important for OCASA to have a unified and succinct legislative platform. I recommend that we develop a platform with approximately three points. Having just three items helps us to prioritize and to be clearly focused on our key issues when speaking with legislators or Department of Education members.
Continuing with the state, we need to lobby key decision makers in the Florida House and the Florida Senate. We also need to send money to the campaign funds for key legislators with influence. While I realize this is not a popular notion, it is part of how the tough world of politics operates. We have to gain influence to be heard and that happens through a large number of voices and campaign contributions.
We are fortunate to work in a progressive, cutting-edge school district. We can be helpful by providing feedback and suggestions with regard to how policies and rules are impacting students and teachers. I realize that this type of action must be handled carefully as we do not want to be an organization that is associated with being negative or unprofessional. We always want to be respectful and helpful.
I hope you look at next year with excitement, and I hope you will be a member of OCASA. When we work together and share a common vision and mission, our voice has a higher likelihood of being heard and making a difference for public education in Orange County and our state.
Thank you for another year of working hard for our students to learn and grow.
work in conjunction with the Florida Association of School Administrators (FASA) to promote a legislative agenda that will support all administrators state-wide. In addition, we will collaborate with local and state elected officials to support the efforts of our state-wide public school system.
If you are not a member, I do encourage you to become one and join the majority of Orange County administrators who are currently dues paying members – and I thank you for that!
Together, as a team, we will continue to do great things for our students, staff and administrators!